About Us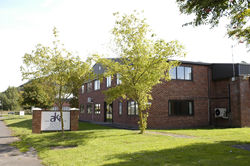 Our Purpose
"To provide innovative customised solutions that exceed expectations."
Background
Originally part of a US multi-national, A K Industries is now privately owned following a management buy-out in 1996. The company has had strong growth and has a loyal customer base. Check a selection of our customers.
We have a reputation for excellent employee relations and have a highly experienced and motivated team whose single-minded aim is to meet and exceed our customers' product realisation requirements. This company-wide culture provides a solid foundation from which to develop the customer relationships and quality of service that make us successful.
Our modern factory in Hereford offers a controlled environment and is well placed to provide a fast and efficient service to our UK and International customers.
Our New Product Realisation and Optimisation Process offers our customers a complete programme of services that can make a big difference to their product development process. We have project management, design, rapid prototyping and toolmaking services in addition to injection moulding production. Our production services include 2 shot moulding, vertical moulding, insert moulding, gas assisted moulding, ultra sonic welding, heat inserting, CNC pad printing, chrome plating, paint spraying, radio frequency shielding [testing] and assembly services.
We will work with you to your best advantage - whether from design through to product launch or in the supply of one or two services.