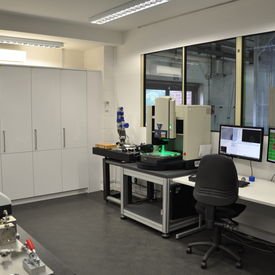 Our new, purpose-built metrology department houses the latest technology, so we're able to offer our customers metrology to the highest standard on every part we produce. We can offer measurement services to the tightest of tolerances. Through constant investment, we can offer the following services:
Non-contact measurement
OGP SmartScope non-contact measurement machine
Combines state-of-the-art video and autofocus to deliver high levels of productivity
Equipped with the optional through-the-lens (TTL) laser, accuracy is further enhanced
Allows us to measure more complex geometries than normal contact measurement techniques can achieve.
Contact measurement using Yohansson Topaz CMM
Fully rebuilt and upgraded in 2011
High accuracy TP20 probe with changeable modules
Full 3D CAD model import
Full statistical process control reporting (SPC)
Full GD&T capabilities
Large measuring volume.
Portable measurement system using FaroArm prime
Ultra portable, accurate measuring system
Full CAD integration
Multiple mounting methods for versatility and flexibility
Fixture setup and calibration
Precision measurement on shop floor and in metrology department
Mould tool investigations possible without removing tool from the machine
Full statistical process control (SPC)
Full GD&T capabilities
As well as offering state-of-the-art measuring capabilities, we also offer rapid prototyping through our metrology department (see our recent case studies). This addition is able to offer the following advantages:
Rapid prototype parts for functional evaluation
Rapid prototype tooling inserts for low volume production in production materials
Custom designed and printed part fixtures
Custom designed end of arm tooling for advanced assembly