AKI NPRO process defined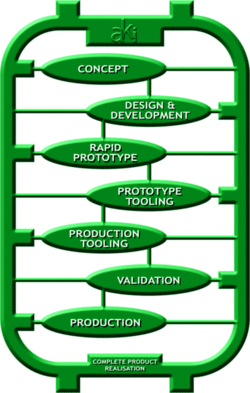 Concept
Brainstorming
Analyse customer and market
Idea generation
Macroenvironment has 6 sources of new ideas:
1. Technological
2. Political/legal
3. Demographic
4. Social/cultural
5. Economic
6. Natural
Technology push / market pull / society demand
Screened ideas into projects
Development of product/customer requirements
Concept generation - Form, benefit/need, technology
Design
1. Aesthetics
2. Ergonomics
3. Function
4. Manufacturability
5. Servicing
6. Disassembly
Design for different routes e.g. speed to market, ease of manufacture, customer needs, corporate identity.
Use of CAD improves design and makes it far easier, reduces need for prototypes.
Rapid Prototype
There are two main types of prototypes:
1. Comprehensive is complete, fully functioning and full sized
2. Focused is not fully functioning or developed, designed to examine specific attributes
Reduces product development costs (40-70%)
All use computer generated models
Virtual prototypes becoming more popular to cut costs
Different types of rapid prototypes - SLA and SLS most popular
Not always good representation of final part (materials, dimensions etc.)
Prototype Tooling
Run test prototypes before final tool
Reduces cost of producing final tool before being sure it is correct
Virtual simulation software becoming more popular for tool design (reduces the need for prototype tools by simulating conditions before tool design finalised)
True 3D moulding analysis now used (even fibre orientation during moulding) software such as moldflow
Production Tooling
Choosing correct material very important
Correct design and manufacture reduces costs further down the line mainly due to improved wearing (Cr content), and good tolerances.Extremely complex tooling for some products - not a problem if good design of tool has been carried out
Manufacture (CNC milling etc)
Tolerances very fine
Validation
Validation can be defined as: the process of confirming, corroborating, substantiating or checking that something is "as intended"
Usually involves checking products characteristics against defined requirements
Finished parts must meet certain validation standards before they can be put into full production
Comparing model data to real life data for validating parts
Some form of comparison must be carried out - either between simulation and real life or just between various simulations
Performance of final product and processes involved in making it can be validated
Production
Continued product optimisation and cost evaluation
Production process continually optimised (problems in production can lead to improved processing)
Savings for customer constantly evaluated to remain most competitive
Tool modification and repair where necessary