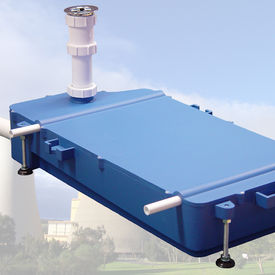 News
AKI and Warmit at National Energy Awards
01 Jan 2007
A K Industries (AKI) of Hereford is proud to announce that its Warmit heat recovery unit has been short listed for the National Energy Efficiency Awards 2006, alongside prestigious names including - Conditionaire - Lo-bo International - National Grid - Phoenix Product Development - Scottish Southern Energy. Joint Managing Director Allen Green was delighted "For a smaller company like ours to achieve this recognition is very pleasing. Although we did not get first place we shall certainly be inspired to continue our development work and have another go next year".
Warmit saves waste heat in domestic situations, saving money and increasing efficiency of water heating devices.
Warmit is primarily designed to be used with electric showers where it recovers the heat from drained water when showering. The Warmit device utilises heat flowing down the drain, in the form of waste water, to preheat incoming cold mains and improve shower efficiency. During tests the Warmit device has achieved a heat recovery of 40% with just a few seconds warm-up time before the effects are noticed through the shower.
By using heat that would otherwise just flow down the drain, Warmit can help households to reduce the cost of showering by reducing the energy required to heat mains water. This means that for the same energy used by the shower a higher temperature is achieved or an increased flow rate at the same temperature. Alternatively, if the same temperature and flow rate are maintained then less energy will be used. This means that it is possible to have the benefits of a higher performance shower without the need to install a more powerful shower with the possibility of having to upgrade the electrical cabling.
The product is to be fitted beneath a shower or bath and requires no pump. A dedicated shower tray version will be available soon. Installation is simple: the waste pipe connects directly to the bath/shower tray in place of the U bend and the mains cold water feed is routed through the unit by push fit connectors. There is nothing for the owner to do as the unit operates automatically and has no moving parts.
Patent applications have been made through the British Patent Office.
For further information or enquire 01432 375100s contact Alastair Green at AKI by email sales@aki.co.uk, telephone or visit our web site www.warmit.com.