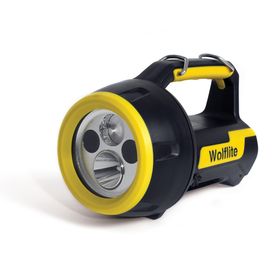 News
AKI lights the way for Wolf
13 Apr 2010
Claimed to be possibly the most complex two-shot moulding ever produced, AKI is currently manufacturing the two-shot moulded body and lens ring enclosure, in distinctive black and yellow colours, for the all-new ATEX approved, Wolflite XT, rechargeable handlamp for explosive environments. Other components of the handlamp being injection-moulded by AKI are the battery cassette and clip, lens seal, reflector blanks, the two halves of the on/off switch and the charger base and its retaining clips.
The modern compact and ergonomic design of the Wolflite XT handlamp incorporates the latest LED technology, delivering 200 lumens of light on full power. With spot and flood beam options in the same unit, the Wolflite XT range offers a flexible solution for all portable lighting requirements.
Weight is reduced by 30% and battery duration between three and nine hours on full power, depending on model, is extended up to 18 hours in powersave mode. The high performance lithium-ion batteries are recharged three times faster, enabling the Wolflite XT to be fully charged from flat in 3-4 hours.
* The Wolf Safety Lamp Company, based in Sheffield, South Yorkshire, provides the widest range in the market of portable "Ex" lighting approved for use in explosive atmospheres, including handlamps, flashlights, head torches, worklights and hazard lights.