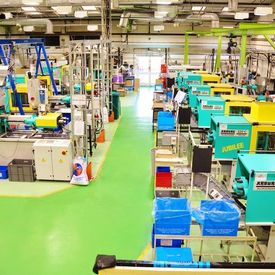 News
AKI Purchases 23rd Arburg Press
01 Dec 2011
A K Industries relationship with the machine manufacturer ARBURG now spans over a whopping 15 years. Our first press purchased from the company was back in 1998, and since then we have added a further 22 to our growing collection!
This week marks the arrival of a new addition to the machinery family at AKI, an Arburg Hydraulic Allrounder 200 ton injection moulding press, with which we are utilizing our 3 axis servo CNC Robot.
We can use the machine for a wide variety of different applications and it can also be individually adapted for operation in conjunction with all familiar injection moulding techniques.
For the Industry boffins, here are a few facts and figures of our new toy:
Model: 570 C GOLDEN EDITION
Clamping Force: 200 TON
Injection Pressure: 2000 bar
Calculated Injection Volume: 392 cm3
Shot Weight: 359g PS
If you have any questions or queries regarding the use of our machinery for your Plastic Injection Moulding needs please do not hesitate to get in contact with us, we are available via email or always on the end of the phone willing to have a chat.
-Rosie and the AKI team