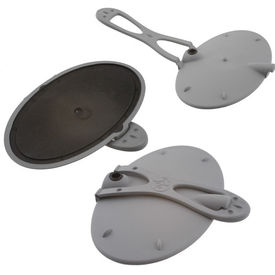 News
Injection moulding saved by Two-Shot AKI
12 Nov 2006
Injection moulding specialists A K Industries of Hereford are well known for their technical excellence and advanced procedures for quality management and customer service delivery. aki were approached to help a Health and Fitness products company when their supplier let them down due to production difficulties.
The product in question was a pad for Dezac's "Rio" brand electrical muscle toning system, made in one operation by two shot moulding. The moulding comprised two different polymers; one to form the shape of the component and to provide an integral hinge, and the other an electrically conducting polymer. aki took up the challenge, collecting the mould tool immediately and carrying out an analysis of the mould to assess any potential problems. Refurbishment and modifications were carried out without delay. Then the production team swung into action and were producing quality parts in no time. In fact the whole operation was carried out so swiftly that the customer did not even run out of stock, ensuring that their customers never even noticed that there had been a problem.
Steve Wellon of Dezac commented "We had been having problems with this two shot moulding but aki sorted out the mould tool and got production under way so quickly it saved us from running out of stock. It was great to find a supplier who did what they promised in double quick time".
To find out more about aki "The solution Providers" call 01432 375100 or visit the web site www.aki.co.uk