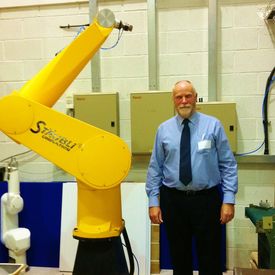 Today has been a very exciting day for all at A K Industries, as it marked the arrival of our new 6 Axis RX130 Staubli Robot.
This is not the first Robot to be purchased by AKI, the five 3 Axis Robots on site are currently being used alongside a number of different machines on the shop floor.
The speed, accuracy and precision of our latest team member is ideal for the automation of many demanding tasks. It provides us with the best possible process quality and increased productivity. It lends itself perfectly to the high precision manufacturing which takes place on a daily basis at AKI, where historically all finishing, assembling and inserting has been done manually by our skilled employees.
Our Robot has been installed alongside our Arburg 360T press to remove a product and carry out printing and assembly tasks during the moulding cycle.
For those of you who would like a deeper understanding of what our Robot is capable of:
Maximum Load: 10kg
Nominal Load: 6kg
Reach: 2185mm
Number of Degrees of Freedom: 6
Repeatability: +/- 0.05mm
Staubli have been producing Robots for over 30 years, we chose this particular manufacturer as we knew from experience that we would receive a reputable and reliable product, which will have an extremely long life-span.
At A K Industries we consider Robotics and Automation to be key in increasing the quality and optimal performance of our Plastic Injection Moulded parts. Whether it is a simple application or complex, effective integration of Robotics Automation into our manufacturing has numerous advantages for customers, including:
Enhanced and consistent part quality;
Reduced Moulding, labour and part costs;
Less part to part variations and waste;
Increased machine utilisation and consistent cycle times for producing injection moulded parts more quickly and efficiently
If you would like to have a chat to us about utilising our 6 Axis Robots do not hesitate to either send us an email or give us a phone call.
-Rosie and the AKI Team