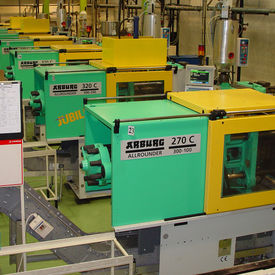 News
WinMan ERP system goes live at AKI
13 Apr 2010
Replacing the Infor system written in Germany and used at AKI for the past seven years, a new WinMan ERP system is going live at A K Industries. It is intended to take the company up to the stage of a fully integrated manufacturing management, accounting, estimating and company relationship management (CRM) system. The Infor system revolved around cumbersome manual data entry, not realtime data as provided by WinMan.
Allen Green, Managing Director of A K Industries, comments: "We regard WinMan as essentially a tool for business improvement because it will impact favourably on all areas of our business, over and above shopfloor operations, and work out cost-benefit analysis and realtime snapshots helpful to management decision-making and control.
"WinMan will pull together disparate satellite systems such as sales database and accounting packages which we would use outside our previous ERP system Infor. In many cases manual data entry, time-consuming and naturally open to human error, will be superseded by automated solutions.
"In summary, the eight principal features and benefits we see of the WinMan system are :-
the tooling database (where the Infor tooling database never worked properly);
the link to Mattec production scheduling;
electronic order processing, keeping us a step ahead of customers' needs;
the company relationship management (CRM) & associated quotation system;
the barcoding of material movements;
an integrated accounting system replacing a standalone Sage system and enjoying full and free exchange of data inside WinMan;
the failsafe alert system by email to warn of exceptional events;
the attachment of all associated documentation to the Bill of Materials (BOM) aka Bill of Structure.
"In the final analysis, our new WinMan ERP system is a discipline which will revolutionise the culture of our company and put us in the best of shape for the new decade and whatever manufacturing challenges it may bring. We can now look forward to the future with real confidence."